LOGLINE: After communicating with his dead wife through a ouija board while staying at a secluded cabin, a man returns on their anniversary in hopes that he'll get to meet with her one last time.
Read
Let's kickstart this new blog of mine with my newest piece of work THE ANNIVERSARY, a short horror screenplay I had written over my vacation in a secluded cabin in the mountains of Colorado.
You know what that means, right?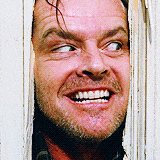 While I left the cabin with my sanity still intact, I had also completed a short 10-page screenplay based on my location as a fun challenge for myself to get some writing done while away.
This script went through various rewrites, starting with John taunting the ouija board with no background information.
Eventually I added in the dead wife, May, who is contacted via the ouija board. From there I included a second character, Brett, who was a friend of John's. Originally the two were on vacation to take John's mind off of his dead wife, where they find the ouija board that John soon obsesses over.
After yet another rewrite, I took Brett out altogether and left it as a one-character-script (technically two characters, but May's Demon doesn't count).
The ending was something I'd always find as a personal hell. You escape from something horrifying only to continue on and on without any memory of ever going anywhere. Going in circles, cursed to live in fear forever, as well as a dark, depressing abyss where you never see the light of day again.
Anyway, enjoy!
Stay spooked!